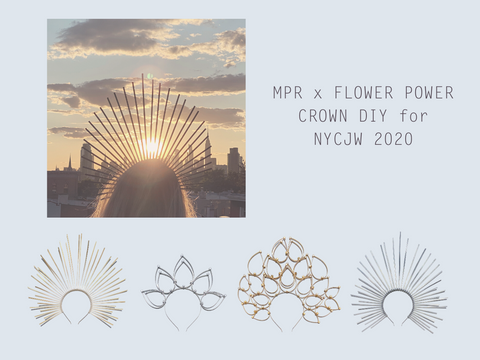 MPR x NYCJW 2020: Flower Power DIY Crown Kit
COMING SOON! Recording of the 11/21/20 Zip Tie Crown Workshop is coming!

THE DETAILS: 
For kids and adults, Saturday 11/21/20 at 12:30 PM EST for a Zoom Ziptie Crown DIY Workshop for New York City Jewelry Week (NYCJW) with MPR! 

Following the MPR x Flower Power ziptie series, make ziptie crowns in fun colors and shapes with MPR. Learn how to fabricate sculptural shapes from common household zipties into larger tiara-like headbands. No jewelry experience necessary and kids welcome! Kits are available but not necessary for participation as a materials sourcing list will be provided as well
UPDATE: New York City Jewelry Week 2020 is over but you can check out more here: https://nycjewelryweek.com
WHAT'S IN THE KITS?
If you'd like to craft along, we created kits with ziptie crown basics. Each kit contains:

Kids | Multi-color: 2 children's size headbands in fun colors, a variety of colorful zipties in sizes 4" to 12" (approximately 100)
Adult | Black: 1 headband and black 15" zipties (approximately 75)
Adult | Multi-color: 1 headband and a variety of zipties in different colors and sizes (approximately 75)
NO KIT, NO WORRIES! You can grab these supplies and follow along:
- Zipties
- Headbands
- Scissors or wire cutters to cut through plastic zipties
- Super Glue
- Nailpolish or Spray Paint (optional)
Fun extras: glitter, foam shapes, glue gun, pipe cleaners, a buddy to craft with you virtually!
See examples: